Larkin Hall Farm
---
---
Background
In 1943 Richard (1) Woodhurst wrote a letter to his nephew in Canada. He claimed in this letter that his grandfather William (1) Woodhurst and the latter's own father (William (9) Woodhurst) and grandfather (William (13) Woodhurst) had once owned a farm in Bill Street, Frindsbury in Kent, and that the name of this farm was "Larkenhall".
It is certainly the case that there was a substantial farm named Larkin Hall near Bill Street, but a clear connection between it and the Woodhursts has not yet been established. William (1) married in 1811, and so the main period relevant to Richard (1)'s claim is the second half of the 18th century. What is certain is that the principal property Larkin Hall and most of its associated estate in that period belonged to the prominent Gunning family, and continued so up to the early 20th century. However, the estate included a number of lesser dwellings and it may be that William (9) lived in one of these.
Part of the former Bill Street is today named Cooling Road - Cooling being a village about 5-6 miles north of Frindsbury. Documents in the Medway Archives indicate that discussions on this renaming began in the 1940s.
Around 1967-68 the Centre for Kentish Studies (Kent Archives headquarters, Session House, County Hall, Maidstone) came into possession of a collection [Catalog Mark: U1379] of deeds, leases and estate papers of the Gunning family's Larkin Hall estate in Frindsbury and Strood, 1681-1915, including a map of Larkin Hall dated 1828.
Location
The Tithe Map of 1842 shows Larkin Hall situated on the west side of Bill Street. The sketch below highlights the house in green.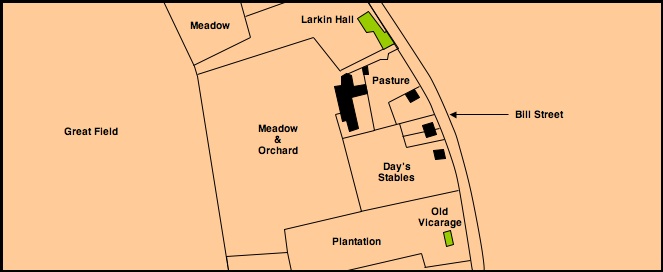 The sketch also shows the Old Vicarage (again in green) and its Plantation, mentioned in schedules of Larkin Hall Farm drawn up in 1905 and 1920. This property was almost certainly "The Vicarage" for which William (9) Woodhurst was assessed in 1799 according to the Frindsbury Poor Rate Book for 1791-1800.
Ownership and Occupation
Some of the following is derived from extensive documentation of the legal affairs of the Larkin Hall estate, kindly supplied by Richard L.H. Coulson of Chatham.
An original document [Medway Archives, P150-25-2] describes the property as "a farm called Larkins [sic] Hall near Bill Street" and states that a 21-year lease was granted in 1797 to George (1) Gunning for part of a field named Newlands on this farm. It further states that the farm itself had once belonged to Sir Richard Head, Baronet and had at that time been occupied by John Laming and his Assigns or Undertenants. However, Sir Richard had died in 1689 and therefore Larkin Hall must have been under different ownership for more than a hundred years prior to this lease of 1797. George (1) Gunning (1752-1821) was a significant local figure who owned or leased many properties and lands in the locality, as attested by many other records in the Medway Archives. His Will confirms that at the time of his death Larkin Hall was in his ownership; it was inherited by his son George (2) Gunning.
In 1829 the Larkin Hall estate, including the main house with 5 acres of gardens, orchards, etc. together with other pieces of nearby land and dwelling houses was put up for sale by private contract as detailed in the Kentish Chronicle, issue of July 28th 1829. This sale seems not have proceeded, as "Larkin Hall Farm" was again advertised for sale in the following year, as reported in The Chatham News, issue of June 20th 1830. This sale also appears not to have proceeded because, by the late 1830s when the Tithe Commissioners were drawing up maps and schedules of holdings nationwide, George (2) was still the owner of much - perhaps all - of the original farm. The Tithe Schedule for Frindsbury [Centre for Kentish Studies, Film 16, IR29-14-145] contains the following record:
| | | |
| --- | --- | --- |
| Owner | Occupier | Plot |
| Gunning, George | Oakley, John | 197 Larkin Hall and Pasture |
| | | 198 Barns and Yard |
| | | 199 Orchard and Meadow |
| | | 201 Larkin Hall House and Pleasure Ground |
The status of Larkin Hall at this time is also confirmed in the County of Kent published by C. Greenwood in 1838, as follows:
Larkin Hall in the parish of Frindsbury, the residence of John Oakley, Gentlemen,
and property of George Gunning Esq. of Brighton, is situated three quarters of a mile
northwest from Frindsbury Church, one and one half miles from Rochester, six and 
one half miles south east from Gravesend and twenty eight miles from London.
John Oakley was clearly a significant person in Frindsbury. In 1838 he was recorded as "Oakley, John, Esq., Bill Street" among the Gentry of Frindsbury [Wright's Topography: Directory of Frindsbury, 1838]. The 1841 Census finds him with his wife Ann and their children living at Larkin Hall. He may have died at Gravesend in 1844 [Death Index: Gravesend 5 163, 1844 (March)].
The tenancy of Larkin Hall subsequently passed to William Woodhams. He was born in Penshurst, Kent and married Caroline Spencer at St. Bride's Church in Fleet Street, London on March 16th 1829 [IGI: Batch M022421]. The 1841 Census finds him with Caroline and their children living at Carlton Place in St. Mary Newington, Surrey and occupied as a merchant. The 1851 Census finds him living at Larkin Hall as a farmer of 110 acres employing 10 labourers. His family included his son Frank Woodhams, then aged "9" and born in "London" (more precisely, in St. Mary Newington).
George (2) Gunning died in 1849 and his Will confirms that he still owned Larkin Hall. It probably passed then to his brother Peter (2) Gunning (1787-1852) and then - after Peter (2)'s death in 1852 - to his other brother William (1796-1860). The latter brother - the Reverend William Gunning LL.B., Vicar of, variously, Buckland Newton in Dorset and Buckland Dinham in Somerset - was certainly the owner by 1857 when he drew up his Will, whose provisions are outlined on the Gunning page. He died in 1860.
William's Will made various provisions, including the income from Larkin Hall, for his wife Sarah Anne, his two daughters Frances Ann and Lucy Matilda and his nephew George (3) Gunning (1821-1899), the son of Peter (2). Frances Ann died soon afterwards in 1861.
In Frindsbury, meanwhile, William Woodhams had died aged "63" in 1868 [Death Index: N. Aylesford 2a 229, 1868 (June)]. He was buried in the churchyard of Frindsbury All Saints where a well-preserved gravestone records both him and other family members; his epitaph describes him as "William Woodhams of Larkin Hall in this parish who died April 5th 1868 aged 63 years".
The running of Larkin Hall farm was now taken over by William's son Frank under a lease granted to him by Sarah Anne on January 17th 1872. Sarah Anne died in 1874. In 1875 Frank married Frances Emma Wakeley [Marriage Index: Milton 2a 1178, 1875 (Sept)] at Milton-next-Sittingbourne, where she had been born in 1844 [Birth Index: Milton 5 369, 1844 (Sept)].
A Tithe Schedule drawn up in 1877 describes the farm as follows:
Owner
Occupier
Plot
Gunning, Archdeacon William
Trustee of the late ...
Woodhams, Frank
176 Great Field (Arable)
197 Larkin Hall and Pasture
198 Barns and Yard
199 Orchard and Meadow
201 Larkin Hall House & Pleasure Ground
204 Dog Kennel (Garden)
205 Crooked Seven Acres Piece (Arable)
215 Hayes Field (Arable)
497a Four Elms Hill Meadow (Pasture)
The total area of the above plots amounted in 1877 to 71 acres, 3 roods and 2 perches.
In 1890 Lucy Matilda married William Cotesworth. By then she was too old to bear children. Her father's Will had specified through a trust arrangement that, should she die childless, the assets of Larkin Hall would pass to his nephew George (3). George (3) died in 1899, whereupon Lucy Matilda became the outright owner of Larkin Hall.
Under continued lease from Lucy Matilda, Frank Woodhams occupied Larkin Hall until at least 1903.
By 1911 Frank had retired and moved with his wife Frances Emma to Meopham in Kent. In 1911 Larkin Hall was occupied by Charles Graham Manners-Sutton and his family; a retired Captain of the Royal Engineers, he was now a poultry farmer.
In the early decades of the 20th century, after the death of Lucy Matilda, the Larkin Hall estate was sold off to various parties. The main house, at least, appears to have been purchased by the Woodhams family. A sale of "Larkin Hall Farm" - perhaps of the outlying land but excluding the main house - was reported by The Chatham News on page 6 of its issue for June 20th 1930.
Frank Woodhams' daughter Alice Derah, born in 1886, married in 1906 to Clarence Frederic [sic] Wood [Marriage Index: Strood 2a 1381, 1906 (Sept)] and in due course Larkin Hall passed into the ownership of their daughter Clarice Derah ("Jane") Wood, who was born on May 28th 1910 [Birth Index: Strood 2a 684, 1910 (Sept) - a late registration!]. Clarice Derah and the house were familiar in the 1960s to the local Frindsbury historian Derek Barnard who recalled that much of the property as it then stood dated to about 1850, but included a very large kitchen that was 18th-century in character, having exposed beams and meat hooks. Behind a door in this kitchen an original flight of stairs ran up to servants' quarters. He kindly supplied a hand-drawn sketch of the house as he had known it, reproduced below: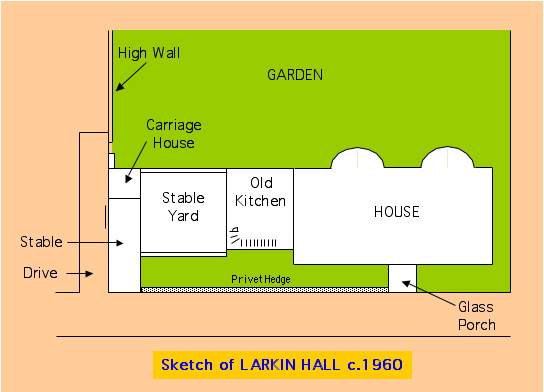 After her parents died, Clarice Derah married in 1970 to Duncan Aldred Cotman [Marriage Index: Ashford 5f 48, 1970 (June)]; the latter source misrecords his surname as "Catman". She then sold the house and garden to developers. Around the 1980s it was demolished and a housing development called Larkin Close now covers the site. So far, no photographs of the house, at any date, have been discovered. Duncan, who was born on July 22nd 1908, died in 1974 [Death Index: Surrey SE 17 0827, 1974 (Sept)]. Clarice Derah died twenty years later [Death Index: Chatham Reg.No. A24A District 5611A Entry 192, 1994 (August)].
Sir Richard Head, Baronet
Sir Richard was a very significant figure in the Rochester area. In particular, his estate at Higham lay in the countryside into which Bill Street emerged from the northern part of Frindsbury. Rochester Cathedral contains a 17thC plaque bearing a portrait of him.
One of his daughters Jane Head - a reputed local beauty, who died on December 17th 1717 at age 66 - married Sir John Boys of Hoath, who died on September 4th 1710 at age 57. Another daughter Elizabeth Head married at St. Leonard in Eastcheap, London at age 19 in 1662, to Sir Robert Faunce, then aged 28, following the death of his first wife [Joseph Foster's "London Marriage Licenses 1521-1869"]. Sir Robert, one of whose own sons was knighted in 1660, was a grandson of Thomas Faunce who had fought in the Navy against the Spanish Armada in 1588 and who was appointed Mayor of Rochester in 1609. The Faunce family had been in England since at least the mid-16thC, at which time their various estates in Kent had included ones at Rochester and at Cliffe - just six miles north of Frindsbury - comprising many hundreds of acres.
A record dated July 20th 1683 [Dean and Chapter of Rochester: Treasurers' Books 1548-1913: Ref. DRc/FTb 1-243] notes that Sir Richard paid 6d to "a poor man shipwrecked upon the Isle of Grain".
He played host to King James II just before the latter fled to France in 1688. The house in which the King stayed as his guest still stands in Rochester's High Street, and is currently occupied by Lloyds Bank.
He died in 1689. His Will, dated that year, bequeathed the rents and profits of his property at Higham, and any other residue of his estate, to buy bread for the poor of St. Nicholas, Rochester, with any surplus to be divided among the eight most ancient men and women [Rochester Archdeaconry Wills].
About half a mile east of Higham Church one of his descendants - also called Sir Richard Head - built, in 1760, a flour mill. It served to supply flour to the Navy in nearby Chatham who used it to make bread during the wars with France. By the 20thC it was known as Rose's Mill, named after a one-time miller there. It was demolished in April 1921. A key component of this descendant's estate at Higham was Great Hermitage Farm.
---