Stephen Woodhurst
---
---
Brief biography
Stephen Woodhurst was born in 1832 at Sittingbourne to parents William (3) Woodhurst and his first wife Mary. He was born on October 9th 1832 and was christened on November 4th 1832 [Sittingbourne Wesleyan Chapel Baptisms Register: IGI Batch C068631]. The register describes his father as a brick-maker of Sittingbourne Parish and his mother as the daughter Mary of "Matthew and Susanna Fryer".
The 1841 Census finds him at age "9" living with his parents and siblings at Buckland, near Dover in Kent. He was actually aged 8.
The 1851 Census finds him at age "18" as an unmarried agricultural labourer lodging at 3, Drayson Square, Faversham with the family of his brother-in-law James Stevens, the husband of his sister Frances (1).
He emigrated to America with his brother William (4) in the 1850s. His life thereafter is known mostly from copies of documents - relating to his military service and his pension claims - supplied by the American National Archives. Until the Civil War broke out he had been working as a manual labourer.
The US 1860 Census finds him living in the household of William (4) in South Fork township in Jackson County, Iowa and occupied as a farmer.
Both brothers served in the Union Army during the Civil War. The Civil War Enlistments database records Stephen's enlistment on behalf of Iowa, giving the date as August 24th 1861 and his age as "27". His muster-roll records held in the American National Archives [NA] give the date as August 28th. They state that he was recruited at Davenport, Iowa for three years' service into the "L" Company of the 2nd Iowa Cavalry. He was ranked as a private. He is described as having had blue eyes, sandy hair and a light complexion, being of height 5 feet 61/2 inches. His occupation prior to recruitment is not recorded.
He served until Spring 1864 under the command of Capt. William W. Eaton. His muster-roll records do not include any signed volunteer document for his original enlistment, but they do include signed papers for his re-enlistment as a Veteran Volunteer on March 1st 1864. He signed up in Germantown (now Memphis) in Tennessee. His rank was still private. Shortly after re-enlistment he appears to have become sick or unfit for active service, and from June 1st 1864 he served instead as an orderly to a Colonel Coon. He was mustered out at Selma, Alabama on September 19th 1865.
According to English's 1910 publication "Roster and Record of Iowa Soldiers in the War of Rebellion", after mustering-out Stephen claimed his normal place of residence to be Maquoketa. This was the township - in Jackson County, Iowa - where his niece Emma Jane had settled with her husband Charles A. Leach. However, Stephen's muster-roll records appear to make no mention of Maquoketa.
One month after leaving the army, Stephen married [Mary] Jane ("Jennie") Guyer in Scott County, Iowa on October 19th 1865 [North America Vital Records Index: FHL Film 1004414]. A transcription of Scott County marriages made by William Gertz for the USGenWeb Project notes that the marriage was officiated by Henry Bayleis and witnessed by Edward Rich. It is almost certain - from subsequent census records - that the bride's full forenames were Mary Jane.
The US 1870 Census finds Stephen living in Maquoketa with his wife (named only as "Mary") and a child "Clary" aged 6 born in Iowa. His age is given as 32, his occupation as stone mason, his birthplace as England and his parents as of foreign birth. His wife was aged 25 and her birthplace Illinois. This Iowa census record is dated July 18th 1870. It is not clear whether the child was Stephen's or had been born to Mary by a prior marriage - Mary may well have been widowed by the Civil War by the time she met Stephen.
The US 1870 Census contains another apparent reference to Stephen - and also to William (4) - at Silver Creek and Trinity township in Lewis and Clark County, Montana. This record is dated August 1870 and shows, living together, two persons named as "Woodhurst Stevens" and "Wm. Stevens", both working as gulch miners. Both are described as born in England and as having parents of foreign birth. Their ages are cited as 36 and 45, respectively. Stephen was actually 37 at that time, and William (4) was indeed 45. Perhaps they were working away from their families, as was very common at that time, and periodically returning to them, enabling Stephen to appear in two records several weeks apart. Or, he may not have actually been in Maquoketa at all in that period - perhaps Mary declared him 'in absentia' and was unsure of his exact age. As for the garbling of the names in the Montana record, this was probably just a misunderstanding between the brothers and the enumerator. Both brothers were certainly in Montana later in the 1870s, in William (4)'s case as early as 1873.
In the late 1870s Stephen was evidently working in an area called the "Coal Banks" in Montana, as the following brief note appears in The Benton Record , issue of October 10th 1879:
Mr. Steven [sic] Woodhurst returned home from the Coal Banks [on] Thursday bringing along Mrs. Woodhurst and daughter. Stev. now says he feels "hawful 'happy."
The US 1880 Census finds Stephen living at Sun and Teton Rivers township in Chouteau County, Montana, occupied as a farmer. It gives his birthplace, and that of his parents, as England, and his age as 46 (but he was actually aged 47). Mary and Clara were meanwhile living together in the same county but in Fort Benton township, with Mary working as a dress maker.
In early 1881 he was involved in a serious shooting incident, as reported in The River Press (Fort Benton, Montana), issue of January 26th 1881. He was living at that time on a ranch on the Sun River owned by a Mr. B. W. Murray, as also was the wife Mrs. Woodhurst of one of Stephen's nephews, either William (5) or John James, who was away in Yogo. She had with her a two-year-old child. On January 16th Stephen had invited back to the ranch a Mr. Brown, occupied in building a nearby house, for a round of drinking. As the evening wore on a bad-tempered argument developed whereby Brown threatened Stephen with a knife. Stephen then shot Brown through the right cheek with a shotgun, killing him instantly. After a subsequent court examination Stephen was entirely vindicated "amid deafening applause from the citizens", it being argued that had he not acted in self defence then both he and Mrs. Woodhurst would probably have been killed.
Later that year Stephen and Mary (named as "Jennie") divorced, as briefly reported in The River Press (Fort Benton, Montana), issue of September 14th 1881.
Soon afterwards he was farming in South Dakota. It was from here that he formulated, on May 23rd 1883, a claim for an original invalid pension, citing various grounds. His capacity for work had been reduced by the long-term effects of an inflammation of the eye contracted when on guard duty at Camp McClellan, Missouri during the War. His application was supported by his brother William (4). The image at the foot of this page shows the Pension Office's associated index card, stating that the application had been filed from Plankinton, Aurora County in South Dakota on June 1st. The year is not very legible on the card, but his pension records in the National Archives confirm that it was 1883. In these records he states - apparently mis-remembering the precise details - that he had been discharged from the army on September 12th 1865 at Davenport.
He continued farming in Dakota during the 1880s, as shown by land patent records relating to him - and to his nephew William (5) - in the Bureau of Land Management Database. Both he and William (5) appear in a list of "Early Homesteaders" in Center township in Aurora County extracted by the SDGENWEB Archives Project.
On June 1st 1894 a census was taken in Michigan State of those persons who had been U.S. Soldiers in the Civil War, and finds Stephen residing in the 8th Ward of Jackson City. The full details have not yet been extracted.
On some date unknown he had remarried to Isabella Kerr. They were still together in the early 1890s until her death on September 30th 1895. During this decade he filed several disability pension claims, including one submitted on the very day that Isabella died.
Only five months after the death of Isabella, Stephen remarried to Charlotte (nee Giblin) Prescott. Their marriage certificate states that they married in Jackson, Michigan on March 2nd 1896, giving both their ages as '62'. His birthplace is cited as England and hers as New York. He was then occupied as a mason. She gave her forename as 'Lottie'. They were married by a clergyman G. J. Kirn. The witnesses were the clergyman's wife and J. H. Bliss whose connection is unknown.
Whether Stephen had produced any children by his previous marriages is currently unproven, although in 1898 he declared on a pension application that he 'had no living children'. However, relatives have reported that he did have at least one child, known familiarly as "Nell".
Lottie had previously been married to David M. Prescott, whom she had divorced on May 16th 1891 by her own application on the grounds of his 'extreme cruelty'. However, it appears she did not fare much better in her marriage to Stephen, for in April 1897 she separated from him.
The US 1900 Census finds him living at 210, Cooper Street, Blackman township in Jackson County as one of seven boarders in the household of a widow Mary J. Woodford. His occupation was mason. No data is cited concerning his immigration or citizenship. He appears to be classified in this record as divorced but it is doubtful that he was.
In 1902 Lottie, claiming not to be divorced from Stephen, filed a claim for entitlement to half his pension. A General Affidavit in support of her claim was sworn to a Notary Public on December 15th of that year by one Lora M. Tanner, who had lived with Lottie and Stephen during the period they had been together. Her affidavit alleged that Stephen had been cruel, drunken and abusive to his wife. It is not known whether Lottie's claim to half his pension was successful.
Stephen remained in Michigan and became a member of the veterans' association known as the Grand Army of the Republic. His last-known dealings with the Pension Office were in 1907, in which year he was adjudged to be 'mentally incompetent'. He died at Grand Rapids in a war veteran's home on August 15th 1908.
His grand-niece Bertha Bess remembered him with affection from her very early childhood. He should not be judged solely on the basis of what had been alleged about him in 1902, for he had no doubt come to the US with hope in his heart and the best intentions, only to be caught up almost straightaway in a foreign civil war, in the service of which he sustained impairments - including some curtailment of his sight - that afflicted much of his life thereafter.
His children by Mary Jane Guyer
Clara M. Woodhurst
and possibly others ...
His children by Isabella Kerr
perhaps a child known familiarly as "Nell"
and possibly others ...
His children by Charlotte (nee Giblin) Prescott
there were none
Pension Application Card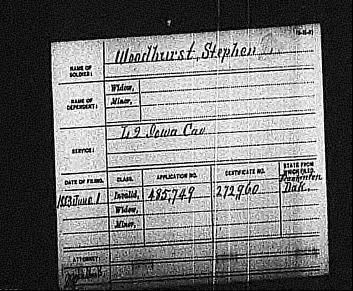 ---